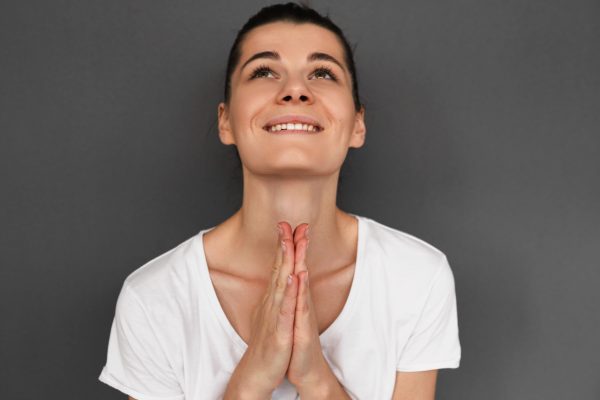 Early in my sobriety, one of the things that kept me coming back to AA meetings and  building relationships was a little Sunday morning get together at the Wolfe Street center called the Hour of Power.
I learned a lot about gratitude at these meetings, a vital component of recovery which coincided nicely with  getting rid of my resentments, a tidy arrangement.
Gene Walter conceived of the meeting with an assist from Gerald and Jenny Cathey and several others in recovery, in the kitchen over bacon and eggs.
It quickly caught on, and he moved the meeting into the adjoining big room. Attendance at his 10 a.m. meetings quickly rose to two hundred and more, giving rise to ominous creaks in the old wooden floor.
Geno's basic text was the 11th Step, which states, "Sought through prayer and meditation to improve our conscious contact with God as we understood Him, praying only for knowledge of His will for us and the power to carry that out."
I wrote an article about the Hour of Power for the fall 1990 issue of the Wolfe Street Journal under the headline: "God Goes to Work During a Spiritually Packed Meeting," and these are some of my notes about the people who shared:
"Hazel speaks of a new intimacy with her husband and a closeness with her children, and she weeps with gratitude for God's answers to her prayers."
"Steve says he is working on humility but with mixed success. He says his sponsor gave him a button because of his humility but then took it away because he wore it. Everybody laughs."
"John, his voice cracking, says he has had a slip and has proven to himself and others that alcoholism is, indeed, a progressive disease. He says he is back in the program, and he thanks God for His grace. The applause is deafening."
"Cecil says goodbye. Tough but oh so tender, Cecil, a man who found AA when he was sixty and became its most ardent servant, is dying of cancer. Weak and laboring for breath, he says he is grateful to God for the program of Alcoholics Anonymous and the life of sobriety it gave him. There are gentle smiles and tears."
On any given Sunday morning," Steve said, "some take the stairs up to the meeting room two at a time and others trudge. For some the lights are on, and for others they are off, but virtually all leave refreshed by the love they find.
A SPIRITUAL WAY STATION
Under Geno's leadership, the Hour of Power developed into a spiritual way station on the journey through life, and those who chose to stop there found their lives enriched by the experience. Life began to become the great adventure it was intended to be.
"The greatest gift in life may well be the knowledge of how to live that life. That is the gift of the program of Alcoholics Anonymous," says Geno to introduce a theme for one meeting.
"In the past," he continues, "we found the answers to life in people, places, material possessions, alcohol, and drugs. They failed us, and we are here today as part of a much higher calling. We seek nothing less than knowledge of how to change and the power to do it."
Geno develops his subject a little more, then begins calling on people. One after another they stand and testify to the joy of lives lived clean and sober on the spiritual plane. Rich and poor, men and women, young and old, black and white, fresh recruits and bleeding deacons, AA and Al-Anon (it's an open meeting)—there is a redemptive message in all their stories.
Whatever their background, the people come to believe. Those who never believed join with those who once believed in celebrating the discovery, not of another religion, but the beginning of a true relationship with God. It is an experience which produces megawatts of love.
Leaving a meeting, a woman said, "There is more love in this room than I have experienced anywhere."
It is available to all, lovable or not. Albert, a physician was not lovable. He had taken the floor to tell those who were there that they were fools and that he didn't need what they had. His power would sustain him, he said.
They smiled at his arrogance and told him they loved him. Puzzled, he kept coming back to make his point and eventually gave in and got sober.
SOUGHT THROUGH PRAYER AND MEDITATION
 Before he died, Geno wrote a book with William G. Borchert, also a recovering alcoholic, as well as a newspaperman, author, and screenwriter, titled Wisdom from the Sunday 11th Step Meetings at the Wolfe Street Center in Little Rock
The book of meditations is a wonderful collaboration of two gifted men, Geno and Borchert, who wrote the screenplay for the 1989 movie, My Name Is Bill W. starring James Woods, James Garner, and JoBeth Williams. Borchert also wrote a screenplay based on his marvelous book, The Lois Wilson Story: When Love Is Not Enough
Borchert and his wife Bernadette flew from their South Carolina home to Little Rock a number of years ago to kick off the book's introduction at the Wolfe Street Center where it all began.
The fifty-two chapters in Borchert's book coincide with the weeks in the year, and each chapter includes Geno's introductory remarks at the beginning of every meeting, followed by a prayer and a meditation. The following is a portion of his introduction of week fifty-two: "A Spiritual Awakening":
It seems like I've been searching all my life, searching for something I never had, searching for something more important than everything else I did have, something that would satisfy the yearning, fill the gap I felt deep inside. I didn't know what I was looking for, but I knew I needed to find it in order to have any peace, any meaning, any fulfillment inside myself.
During those terribly lonely times in my life when I felt myself sinking under the weight and torment of my addiction, I would look at other people—happy, smiling, seemingly at ease and I'd be filled with envy, jealousy and resentment. It seemed like they had found what I was still searching for, and it angered me.
There were times I even tried what others were doing—working hard, enjoying families, having good relationships, going to church, praying. It didn't work. Nothing gave me any respite except another drink or another drug. Then after a while, that stopped working too.
I began to ask myself if I was the only one who trod that path that led to total desperation. Was I the only one who kept asking, seeking, stumbling along that dark and despairing road that had no signs or guideposts?
It was a road that led to the top of a cliff. I stood there looking down, fearing I might fall into the abyss. Filled with terror, I called out for help. God came and lifted me up. I was put on a new road, a road that led me to recovery through the 12-Step program of Alcoholics Anonymous.
Still seeking to fill that gap inside me, I was now given directions—the road map of the 12 Steps of recovery. I was told the Steps would help me find sobriety provided I admitted I was powerless over my addiction and turned my will and my life over to the care of a Power greater than myself.
That's when a voice deep inside told me that my search was almost over, that what I had been looking for all my life I could now find—a relationship with a loving and caring God of my understanding. I knew it was the beginning of a whole new way of life.