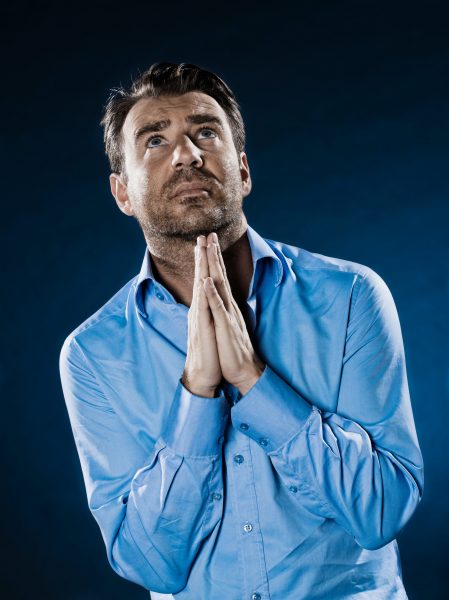 After 14 years of riotous living, which included time in the military, five years in and out of jails and a lot of years in saloons, William Holloway, at aged 26, turned to Alcoholics Anonymous for help, and got off the streets of Minneapolis and Memphis.
Just in the nick of time, it would seem. Holloway, by his own account, was a murderous, illiterate, unfeeling and drug-abusing thug.
This is what he told me when we first met nearly ten years ago at the Compassion Center which he founded to serve the needs of Little Rock's truly down and out.
Illiterate because of his lack of schooling, Holloway, despite this handicap, launched a successful contracting business, got married and raised a family and eventually learned to read and write. At age 47, twenty years after joining AA, he became a Christian and after that an ordained minister with a heart for the homeless.
In October of 1998, pastor Holloway, who had migrated to Little Rock, founded the Compassion Center on Asher Avenue, one of Little Rock's rougher neighborhoods. He and his wife Rosemary, a minister herself, dedicated the facility to expressing the love of God through the ministries of feeding the hungry, sheltering the homeless and preaching the gospel of Jesus Christ.
Today compassion Center serves free meals three times a day 365 days a year (totaling 142,000 last year) and provides 250 beds nightly for men, women and families. Holloway's help continues as long as his visitors seek it, and the game plan includes a hand off to local churches inviting them to get involved in the recovery of his poor and emotionally disabled constituents.
His mission, Holloway says, offers a ministry of hope to the homeless, transient, displaced and disadvantaged.
"We provide a clear message of the gospel of Jesus Christ as well as help for physical needs while helping people transition to local churches. Our ministry is offered to any and all people in the inner city in a caring manner, recognizing the God given human dignity of every individual."
I first interviewed Pastor Holloway and his wife at the Compassion Center almost ten years ago, when I was publishing my "One day at a Time" newspaper which preceded our web site.
Seated behind his desk, I wrote, Holloway, a man of substantial girth with a white crew cut (the only kind you can get at the shelter's free barbershop), a slightly banged up ruddy face and a ready smile says he is by no means finished with his growth plans and then gets down to brass tacks about his current operation.
Compassion Center admits everyone—men, women, women with children and sometimes even a husband and wife with children—and it's free. The only requirement is that they are sober and not carrying a weapon. Some stay a night, "get three hots and a cot," and are gone. Some stay a little longer, and some choose to enter the Center's substance abuse program and may stay a year.
Holloway says that about half of those who come to the shelter need a meal and a bed. The other half "are at the end of their rope." The latter are the ones who are likely to stay and have a shot at recovery.
Holloway estimates 65 to 80 percent or more of the homeless are addicted to alcohol and other drugs. The men who choose recovery live in a special section of the building and enter a six-month program which includes working a Christ-centered 12-Step program, attending counseling sessions and working in jobs at the Center.
Ray Wells is the substance abuse program director at the Center. He is a recovering alcoholic who ended up as a patient in the VA hospital in Little Rock after a career mainly with prison systems in Oklahoma and Colorado.
Brutalized by his job, he turned to alcohol hoping for relief, and it made him worse. His marriage failed, he lost his children and he sank into deep despair. At the VA hospital, Wells said, he did manage to get "dry" but not sober and was very unhappy.
Out for a walk one night, he passed the Compassion Center and decided to go in and spend the night. He liked it immediately and asked if he could talk to Pastor Holloway about a job.
Chuckling as he recalled his appointment with the Pastor, Wells said, "I approached him with what I felt was a pretty decent resume that could lead to an administrative position of some kind.
"Pastor looked it over, and then he said, 'I see you're a cook.'
" I pointed out that there was nothing in my resume that said anything about my being a cook, but he persisted. 'Yep, you're a cook,' he said with finality.
"Turns out he was right," Wells said smiling, "I started out as an apprentice in the kitchen the next day, became a cook and eventually took charge of the kitchen."
It wasn't until later that he made the jump to program director.
The cheese incident
One of Wells' favorite stories about his tour of duty as a cook he has labeled "the cheese incident."
It seems the kitchen was well stocked with everything but cheese and hadn't received any for quite awhile.
"We all got together, and we prayed for 20 pounds of cheese," Wells says.
"The next day—exactly 24 hours later–a truck pulls up and honks the horn. The driver says he has 200 pounds of cheese for us. We accepted the shipment and we never ran out of cheese again."
Holloway is working on developing a substance abuse program for woman but hasn't found anyone qualified to run it so far.
The fact is, Holloway says, women seem to have more difficulty in the shelter environment than men. They often have children to worry about, plus, Holloway says, "Men are just better at camping out."
Kimberly Anderson is in charge of operating the woman's shelter, a one-story yellow cinder block building in the heart of the crime-ridden neighborhood two blocks from the men's shelter.
On the job barely a month, Kim has the difficult task of dealing with mostly transient women, many of them with small children and many of them with drug problems and prison records.
There are rules covering the admittance of women as well as their behavior while they are in the shelter. One of the rules is that mothers with children get the bunks and single women sleep on the floor.
Clean and sober
Only six weeks clean and sober herself, Kim, who suffered continuous abuse and neglect growing up in Iowa, landed on Compassion Center's doorstep in early April with her little girls, Aubrianna and Lyndsey, in tow.
Talking about her job with her two well-behaved little girls at her feet, Anderson is noticeably composed, and when asked about the source of her serenity, she points to the heavens and says, "my Lord and Savior."
When the phone rings, Anderson picks it up and with aplomb answers, "Compassion Center, Kim Anderson speaking, may I help you?"
The person on the other end, judging from Kim's helpful responses, is seeking a place to stay and the conversation ends with Kim giving her directions. "Yes, we're right across from Uncle Abe's Phillips 66. We'll see you in a little while."
In a neighborhood filled with night clubs, tattoo parlors, pawnshops, liquor stores and body shops, Compassion Center's main building on Roosevelt with its brick front, red awning and neatly mowed lawn, stands out.
It is a small and virtually self-sufficient city which Holloway runs like a military base. Neatness and cleanliness definitely count and so does attitude. When people are addressed, their response is respectful and invariably includes a reference to the saving powers of Jesus Christ.
The day begins for everyone with breakfast at 5:30 a.m., which is followed by prayer, bible study and counseling sessions. Inmates either have jobs at the Center, or go to jobs on the outside or are looking for jobs.
A staff of 10
Holloway operates with a staff of 10, who earn $5.15 an hour, and he has 15 interns who earn $35 a week. Most employees come from the ranks of the homeless and have been substance abusers.
Some work as cooks, some are in the warehouse/manufacturing operation, some are in retailing and some are in maintenance. The place is spotless, and the workers go about their business with a calm intensity apparently on their own initiative. There are no supervisors in sight.
Compassion Center manufactures mattresses, bunk beds and other furniture, operates a retail store fit for a mall, sells scrap to dealers and distributes food and clothing free to the poor and to other charities for distribution.
On Sundays, there is a service in the Center's chapel. Holloway gives the sermon and also plays the guitar accompanying Rosemary who leads the singing. There is an alter call at the end for those who wish to declare or confirm their allegiance to Christ. Sometimes, after the service, Holloway in white shirt and tie conducts baptisms in a small vinyl kiddie pool in the backyard.
So what's next? Holloway says he's going to keep buying buildings and expanding to serve the men and women who need his help.
As we in Little Rock contemplate an organized response to the growing drug epidemic in our community, we are blessed indeed to have Pastor Holloway and his Compassion Center.