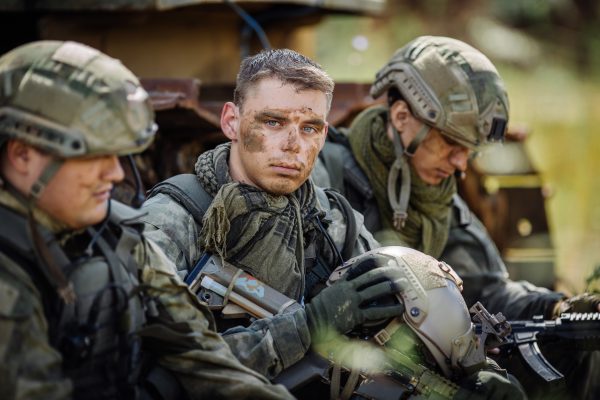 Navy medical corpsman, Jack Gutman, was one of thousands of allied troops who landed on France's Normandy beach on June 6, 1943—seventy six years ago. It would take another two years to finish the job, but it was the beginning of the end of Germany, its allies and World War II.
Now 92, Gutman survived the physical and emotional horrors of the war, both during and in the years following. He suffered from Post Traumatic Stress Disorder (PTSD) and alcoholism for many years but overcame both of them.
Gutman appeared on Martha Macallum's Fox news Friday, on the eve of the Memorial Day weekend to tell us what it was like, what happened and what it is like now.
Veterans tell us the Academy Award winning movie, "Saving Private Ryan," released in 1998 and starring Tom Hanks, effectively captures the shocking and sickening brutality of the landing and the march of our soldiers across Europe that ended in victory in 1945.
The movie is readily available on television.
The invasion began the night before the D Day landing when thousands of paratroopers and glider troops parachuted in behind German army lines, securing bridges and exit roads.
The attack by sea began at 6 the next morning.
The British and Canadians overcame light opposition to capture beaches code-named Gold, Juno and Sword, as did the Americans at Utah Beach.
U.S. forces faced heavy resistance at Omaha Beach, where there were thousands of casualties mostly Americans.
Two years later, on May 9, 1945, a date that will be remembered as VE Day–Victory in Europe—the Germans surrendered.
In late summer of that year, on September 2, 1945, the Japanese formally surrendered on the deck of the battleship, USS Missouri. General Doulas A. MacArthur, among others, represented the United States. He closed the proceedings with a prayer.
"Let us pray that peace will be restored to the world and that God will preserve it always. These proceedings are closed."
Those who have seen the Academy award movie, "Saving Private Ryan," released in 1998, have a pretty good idea of how awful it was as the allied forces fought their way across the beach, scaled the cliffs and headed across France in the cause of freedom.
Jack Gutman shared a part of his story on Martha McCallum's Fox news Channel on May 24, the eve of the nation's annual Memorial Day weekend to help fellow veterans of the Normandy Beach landing and other battles.
It was a powerful testimonial, and McCallum, obviously moved, was the perfect host. It was a class act at a time when class acts and decency are in short supply.
Martha was born on January 31, 1964 in Buffalo New York. She graduated from Ramapo high school in Bergen Lakes, New Jersey and St. Lawrence University in upstate New York with a degree in political science..
She and her husband, Daniel John Gregory, were married in 1992 and have three children, Elizabeth, Edward and Harry. 
On this Memorial Day holiday weekend, I also want to introduce you to a friend and Vietnam War veteran, Marine Bob Graham whom I met a decade ago at a 12 Step meeting. His service and sacrifice has been recognized by many Arkansans including U.S. Senator John Boozman. His story is available in full in the book, "Pathways to Serenity. Overcoming Your Addictions One Day at a Time."
After finishing basic training in San Diego, Graham continued his military education at Camp Lejeune, North Carolina where he trained as a mechanic and truck driver. He was stationed in a unit in Da Nang, Vietnam and had to learn quickly how to adapt to a combat zone. It was beyond brutal. He came home badly damaged and angry.
Bob G's recovery
After a series of drug busts, he was told he had only six months to two years to live.
"I finally went to my first N.A. meeting," he said. "At first, I went to meetings to get a paper signed attesting to my attendance to keep from being held in jail.
"I didn't realize at the first meetings I would hear other stories like mine, and I started to feel hope. Also, I had found out that I could possibly get a heart transplant if I tested clean for a year.
"Today, I know my higher power had a plan I couldn't fathom. I was put on a new drug that caused my heart to improve, and that has allowed me to continue my recovery and to develop a life worth living."
A key to Bob's recovery was his decision  to confront his addictions by going to Alcoholics Anonymous and shortly after that, Narcotics Anonymous. These 12-Step meetings, which are available free to all who seek recovery, gave him a recipe for success and a host of new friends to share it with. Bob also makes better use of Veterans Administration treatment options.
Twelve-Step meetings work. They are accessible, and free. So there is always a place to go, get a cup of coffee, and be with people who have similar problems. Being with people and forming relationships is a key. The biblical principles upon which AA founder Bill Wilson based his 12 Steps, are, of course, vital, but they were not meant to be copied and handed out for people to read at their leisure at home. They were meant to bring people together in common cause. Addicts tend to be loners, and this is especially true of combat veterans.
"The most important lessons I've learned and try to pass on to other combat veterans is that I have to treat my PTSD through psychiatric care, medication, and talking to and working with other combat veterans from all the wars.
"Working on my alcoholism and addictions is something I do with guidance from my sponsor, who helps me work and live the 12 Steps and traditions in my life and to pray to a God of my understanding."