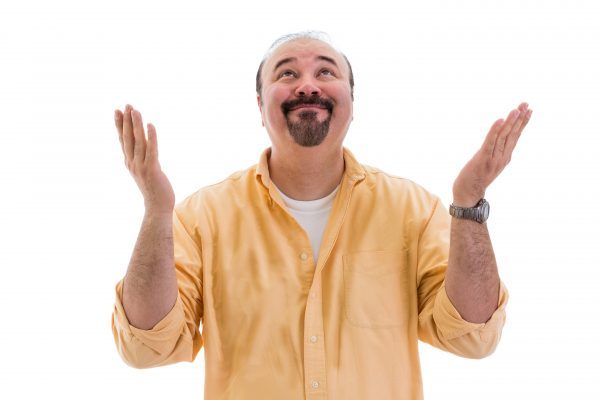 Mike Lindell, the founder of "MyPillow," an amazingly successful merchandiser of (wait for it) "pillows," was once so addicted to crack cocaine that his three drug dealers ran an intervention and refused to sell to him.
I had no idea.
Frankly, I had begun to develop a bit of resentment against this perpetually good humored salesman and his pillows  intruding on television.
And now here he was on my TV telling his own recovery story to Mark Levin on his conservative Life Liberty and Levin Sunday night Fox news show.
"I went up and down the streets of Minneapolis and couldn't buy my drugs anywhere," Lindell recalled. "I had been up for 14 straight days.
"One of my drug dealers said to me, 'You've been telling us MyPillow is just a platform for a much bigger purpose for God and that you were going to come back and help us all someday when you quit. Well, we're not going to let you die on us.'"
Lindell didn't die and eventually pulled his life together after dedicating it to Christ. Today, he runs a highly successful company and is a self–made millionaire who also helps former addicts like himself.
Lindell's Battle
Lindell's own battle with drugs began in 1982.
"I was a cocaine addict, a very functioning addict, for 20 years," Lindell says.
Lindell, whose parents divorced when he was seven, was shy and wouldn't talk to people, he said, which followed him throughout his life.
"You can't get rejected if you don't talk to people," he said. "My addiction masked my rejection and feeling unworthy."
Lindell's compelling story, since he went public with it has been covered extensively by the media. The latest published by reporter Josh Dean on Bloomberg with some modification is included below:
 The tale of Mike Lindell begins in a crack house.
It was the fall of 2008, and the then 47-year-old divorced father of four from the Minneapolis suburbs had run out of crack, again. He had been up for either 14 or 19 days. He swears it was 19 but says 14 because "19 just sounds like I've embellished"—trying to save his struggling startup and making regular trips into the city to visit his dealer, Ty.
This time, Lindell arrived at Ty's apartment expecting the typical A-plus service and received a shock instead: The dealer refused his business. Ty wasn't going to sell him any more crack until he ended his binge. He'd also called the two other dealers Lindell used and ordered them to do the same. "I don't want any of your people selling him anything until he goes to bed," Ty told the dealers. When Lindell protested, he cut him off: "Go to bed, Mike."
Many people would be ashamed by this story. Lindell tells it all the time. "I was like, 'Wow, drug dealers care!' " he says. "That's what it felt like, this incredible intervention." The moment wasn't the end of his drug abuse, which started in his 20s when he owned bars and stretched through the early years of MyPillow, the Chaska, Minn., company he founded in 2005 to fulfill his dream of making "the world's best pillow." It was, however, his low point. It was when he realized that abusing crack and running a business weren't compatible in the long term and vowed to get better.
He smiles wide, white teeth emerging from under the push-broom mustache familiar to anyone who watches cable TV, and takes out his phone to show me a picture: It's him, looking wired and wan, like a man who'd been bingeing on drugs for days. Ty took it that night, he says.
The story is impossible to confirm; Ty isn't reachable for comment. But it's become part of Lindell's legend, and it will be a pivotal moment in the autobiography he'll self-publish later this year. He and a friend, actor Stephen Baldwin, plan to turn the book into a movie as part of their new venture, producing inspirational Christian films "that aren't cheesy," Lindell says.
He says Ty took the photo not just to show him what he looked like—a crazy person spiraling toward death—but also as a memento. "Because he knew my big plans for the future," he says. "I would always tell these guys that someday I was going to quit crack."
Eight-plus years later, Lindell is sober and phenomenally successful. He quit everything—alcohol, powdered cocaine, and crack—after one final party on Jan. 16, 2009, and he presides over an empire that's still growing precipitously. Last year he opened a second factory, saw sales rise from $115 million to $280 million, and almost tripled his workforce, to 1,500. To date he's sold more than 26 million pillows at $45 and up, a huge number of them directly to consumers who call and order by phone after seeing or hearing one of his inescapable TV and radio ads.
On this day in early November, he's just back from a week in New York, spent celebrating the election of Donald Trump, whom he met at a Minneapolis campaign stop and decided to support, whole hog. He's spent the morning catching up on business with various employees who cycle in and out.
People don't seem to make appointments. They just know the boss is around and stop by the conference room he uses as an office, hoping to get his attention.
"This is my head of IT, Jennifer Pauly," Lindell says, as a young woman pops in. "She's a good example of me taking my employees and knowing their skills. I have a house painter in charge of all my maintenance at the factory. Jennifer is self-taught. Did you ever go to school for IT?"
"I took some Microsoft classes, but that's basically it," she says. "I knew how to run a spreadsheet, and that's why he trusted me with data."
Lindell laughs loudly. He wears two discreet hearing aids, but everyone says he's been boisterous forever. "God's given me a gift to be able to put people in the right position, where their strengths are!" he says.
Next, Bob Sohns, his purchasing manager, arrives to ask if Lindell will meet a guy who flew in from Italy to sell him an automated pillow filler.
"I've known Bob since 1990, but he came on in 2012," Lindell says. "He was working for NBC Shopping Network, and then he goes, 'Mike, I think I should come work for The Pillow.' I said, 'Sure, what do you want to be?' "
"That's very close to the truth," Sohns says.
"What do you do again? Buy stuff? OK. Keep on buying." (Lindell later met the Italian and ordered his $162,000 pillow stuffer on the spot.)
Next, Heather Lueth, Lindell's oldest daughter, the company's graphic designer, comes in to talk about the latest e-mail campaigns. MyPillow is, someone at the company told me, more a family forest than a family tree. Lindell's brother Corey, who invested at one of MyPillow's lowest points, is now the second-largest shareholder. His job: doing essentially whatever. Today he's fixing a grandfather clock. Earlier, he hung a flatscreen TV in the lobby shop. Lindell's niece, Sarah Cronin, is his executive assistant. His brother-in-law, Brian Schmieg, has no title, but is responsible for gathering "concerns" from the factories to present to the boss in regular meetings.
Larry Kating, director of manufacturing, calls from the new factory in nearby Shakopee to discuss whether or not to make 30,000 pillows for Costco that the store hasn't asked for yet.
Lindell's vote: Go for it! "You're always juggling stuff like that," he says. He's an unusual manager, governing largely on instinct and by making seemingly wild gambles that he swears are divinely inspired. "We don't use PowerPoints," he says. "I end up getting stuff in prayer."